Register
2022 // PSU Summer Soccer Camp Soccer
PSU Summer Soccer Camp
BROOKLYN'S MOST POPULAR SUMMER SOCCER CAMP!
PSU Summer Soccer Camp is the most popular soccer camp for kids in Brooklyn. Built around having maximum fun while developing as a soccer player and athlete in general, it provides players with an experience to meet kids from all over Brooklyn, while playing games and scrimmages with world class coaches.
PSU Summer Soccer Camp is the place to be for any kid in Brooklyn during the summer months. Join the hundreds of players weekly that come out and experience one of the best sports camps experiences anywhere!With two locations in Brooklyn, PSU's Summer Day Camps are easy to get to. Huge discounts are available when you register for 4 or more weeks! Don't miss out on Brooklyn's leading summer soccer camp for kids!
KEY INFO:
Regardless of location, Summer Soccer Camp runs from 8:30am - 2:30pm, Monday - Friday, every week.

Weather - We will only cancel a day of camp if rain is sustained, heavy, and/or there is a thunderstorm. If it is just a kind-of rainy day, camp will proceed as scheduled.

In the event we need to cancel a day of camp, we will credit your LeagueApps account for the cost of that day. Campers are grouped by age - (5-6 year olds; 6-7 year olds; 7-8 year olds, etc.)

You will receive a confirmation email after registration, which will contain information about what you need to bring with you to camp.
DAILY SCHEDULE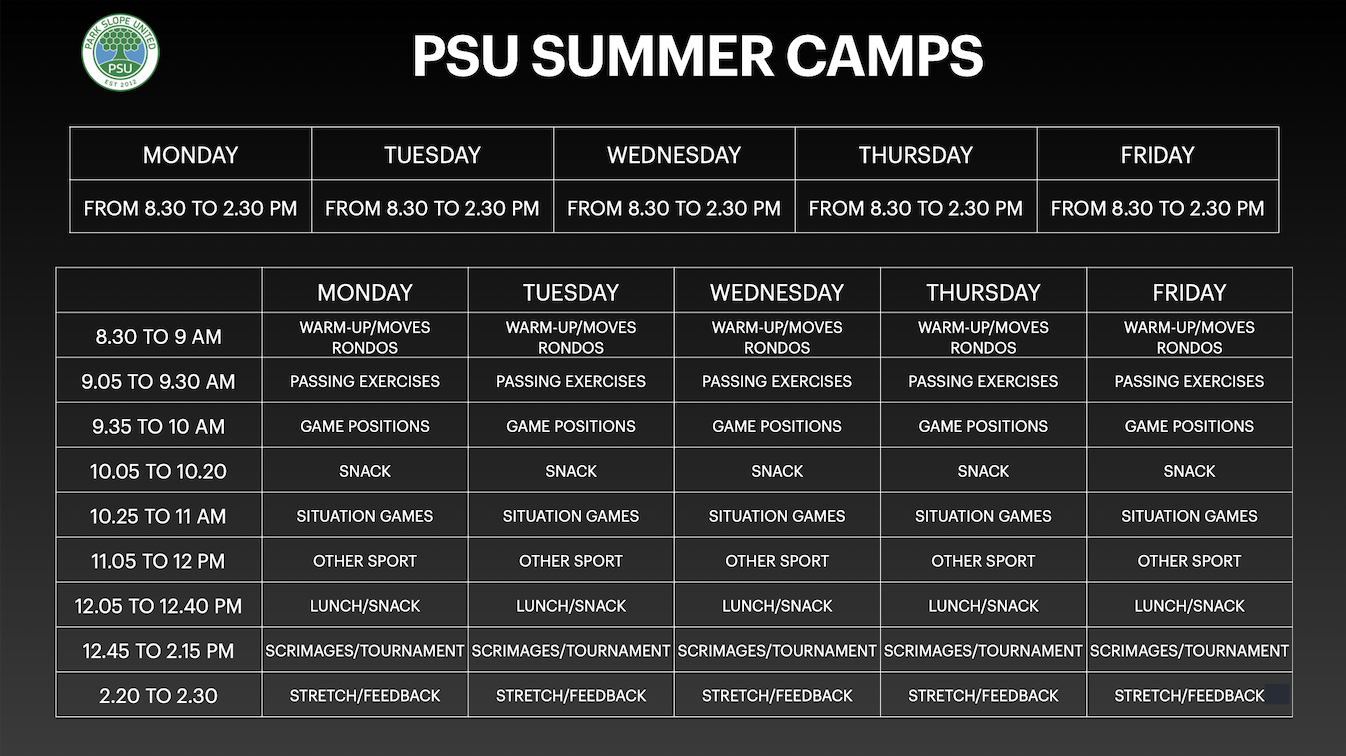 For an inside look at all things PSU, check out our Instagram page : @Parkslopeunited
Camper Fees

Early Bird

$320.00

Regular

$399.00

Camper Fees

Early Bird

$320.00

Regular

$399.00

Camper Fees

Early Bird

$320.00

Regular

$399.00

Camper Fees

Early Bird

$255.00

Regular

$320.00

Camper Fees

Early Bird

$320.00

Regular

$399.00

Camper Fees

Early Bird

$320.00

Regular

$399.00

Camper Fees

Early Bird

$320.00

Regular

$399.00

Camper Fees

Early Bird

$320.00

Regular

$399.00

Camper Fees

Early Bird

$320.00

Regular

$399.00

Camper Fees

Early Bird

$320.00

Regular

$399.00

Camper Fees

Early Bird

$320.00

Regular

$399.00

Camper Fees

Early Bird

$320.00

Regular

$399.00

Camper Fees

Early Bird

$320.00

Regular

$399.00

Camper Fees

Early Bird

$320.00

Regular

$399.00

Camper Fees

Early Bird

$320.00

Regular

$399.00

Camper Fees

Early Bird

$320.00

Regular

$399.00

Camper Fees

Early Bird

$320.00

Regular

$399.00

Camper Fees

Early Bird

$320.00

Regular

$399.00